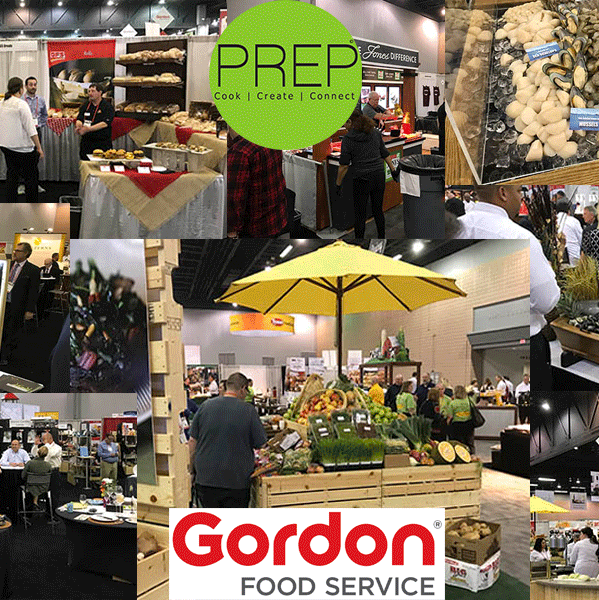 Food Show with PREP & Gordon Food Service working together to bring this wonderful event to Atlanta!
Mitch Long and Julie D'Amico set up a food truck park outside of the Cobb Galleria, with Island Chef Cafe, Espetada and Tasting Maine giving out free samples!

There were phenomenal food displays at the Gordon Food Show, located at hundreds of stations, Everything imagineable from Apples to Zucchini!

There were training sessions, Chef demonstrations and tons of resources at the Gordon Food Show

What a wonderful way to spend the day, take a look at some video from the show:
Have you been to see Julie D'Amico demonstrating wonderful food products and techniques on Thursdays at 1:30 @ PREP!
"Thrive Thursday" is an opportunity for me to cook up a few Gordon ingredients in the PREP kitchens to help share our product lines, inspire new trending or seasonal menu ideas and introduce our broker community–it's a chance to share space and conversations with a variety of customers, learn more about their business and the types of products or ideas they might find interesting.  This time is invaluable for Gordon and PREP to continue our partnership and explore new ideas in the kitchen. Each Thursday looks a little bit different and it's exciting to talk about new imported olive oils, applications for dips and sauces, Spring sandwich ideas, trending flatbreads–the list is endless and the conversation time is priceless.
Take a look at this video:
Gordon Food Service Website www.GFS.com
What is PREP? 
Based in Atlanta, GA, PREP supports, provides resources for, and serves as the food production home to a rising class of culinary entrepreneurs in the Southeast. PREP features state-of-the-art, commercial-quality, shared kitchen dedicated production spaces, food business growth resources, procurement, and hands-on guidance to specialty food producers, chefs, bakers, caterers, food trucks, and the next generation of food artisans. Find out more at www.PREPatl.com
Read about PREP's Expansion Click Here
PREP Cook-Create-Connect is a fully licensed unique shared kitchen concept. Established with one goal in mind to help build and support small food businesses in Metro Atlanta.
PREP provides state-of-the-art commercial shared kitchen space, test kitchens resources, food procurement and guidance to a talented and creative class of entrepreneurs.
These are specialty food producers, baker, caterers and mobile food service operators, along with the next generation of food artisans. PREP is a privately held company based in Atlanta, GA.
For more information about PREP please call (404) 920-4150
or visit www.PREPatl.com    PREP on Facebook – PREP on Twitter – Truck & Tap – Atlanta Food Truck Catering
Did you know that the more than 50 pieces of artwork that line the walls of PREP are by our very own JR Santos! Take a look at his website Jr's Abstract Art for sale in Atlanta – Jr's Abstract Art on Facebook