WELCOME TO PREP®
2018 brings additional expansion to PREP with the beginning of construction on the third building PREP's campus. This facility will accelerate small startup food businesses as well as provide expansion for established food businesses and commissaries for multi location restaurants.  Now is the time to come by and discuss your needs and hear about this new facility.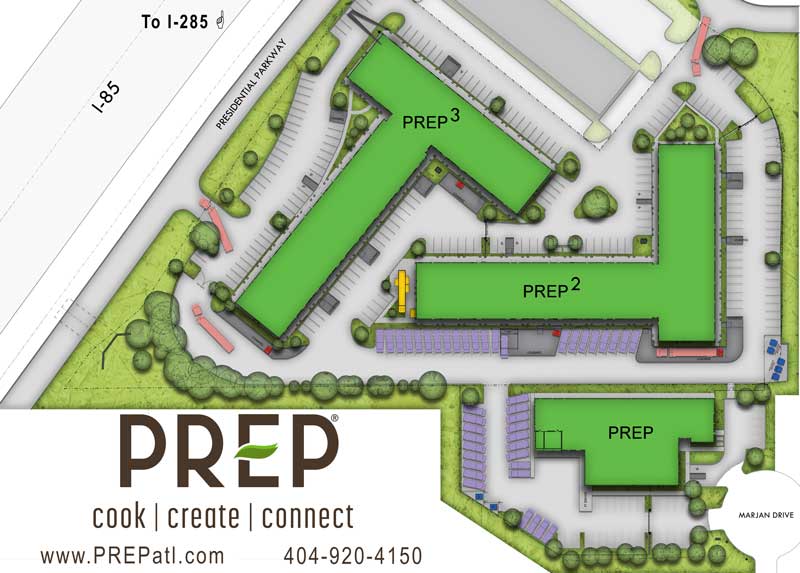 2017 brought expansion and many new Members to PREP. This expansion included permit-ready and dedicated production space for mid-level companies, who already have a foothold in the market, but could still benefit from having access to PREP's member driven infrastructure. Click Here for exciting information about our expansion.
PREP Cook | Create | Connect opened in May, 2014, and is a state of the art commercial kitchen facility that is unique to the Metro Atlanta area, the State of Georgia and Southeastern United States. PREP's concept, facility and amenities have all been custom designed to be a culinary haven to meet the needs of all types of food artisans – specialty food producers, bakers, caterers and mobile food service operators/food trucks, prepared meals companies, pre-opening restaurant menu creation and movie set catering companies.
PREP has launched more than 350 food businesses since beginning operations in 2014.
PREP is fully permitted under the authority of the: Georgia Department of Agriculture, DeKalb County Department of Health, USDA and FDA.
You do not have to be a Member of PREP to take advantage of PREP's National [….]
---