Tracy Gribbon Specialty Food Producer @ PREP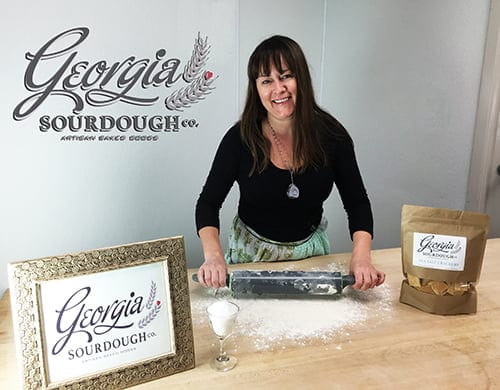 My Journey into becoming a Specialty Food Producer at PREP..
"I started cultivating a sourdough starter about 3 years ago, just for fun and experimental baking. Little did I know that this living ecosystem on my counter-top would change the course of my whole life!
The more I baked and shared- the more I learned and discovered about the legacy and tradition of the sourdough baking method. And the more I baked, shared and learned- the more excited I became about the possibilities.
Most of the snack foods in our groceries are wheat based and use a commercialized instant yeast. The yeast in a sourdough starter has a big and specific job to do that is being shortcut by the use of commercial yeast. The result of today's mass commercial method is that lots of people suffer from gluten intolerances.
With a return to a true sourdough method, however,  we can create products that people's bodies happily digest. The yeast and lactobacilli in the starter eat the sugars to loosen the gluten strands and expel carbon dioxide to create rise. And another by-product is that delicious sourdough tang that helps give our products an extra depth of flavor. To make a healthy product for people- that's delicious to boot- well that is just the greatest thing I could ever imagine being a part of. And I'm proud to bring this about in the great state of Georgia where we have so much developing interest in local agriculture and the health of our loved ones."
Tracy's Review of PREP
"When I first signed to become a Specialty Food Producer with PREP I did so because of the location, cleanliness & friendliness of staff. I knew the owners were on premise and that made me feel nice to be part of a non-corporate situation. What I have experienced in the 5 months of my membership has continuously blown me away. Every single staff member is a genuine, wonderful, hardworking human being. Any time I have asked for help they have gone above and beyond the call of duty. They have graciously helped me with scheduling, logo & label design, business plan development, staffing, product development, investment resources…the list goes on and on! Starting a business by yourself can be a challenging and lonesome road- but the PREP folks have been there every step of the way with their amazing expertise, experience and connections. I feel so lucky to be able to have space here. Thank you PREP Stars!!!"
 Georgia Sourdough Co Website  – Georgia Sourdough Crackers on Facebook
PREP is licensed by the USDA, Georgia Department of Agriculture and the GA Dept of Health.
PREP
3300 Marjan Drive
Atlanta GA 30340
I-85/I-285 ITP, 15 minutes from most areas of Atlanta.
404-920-4150
---
PREP Cook-Create-Connect provides Private Kitchens for Commissary, Catering and Food Production as well as a shared kitchen workspaces.  PREP is a culinary accelerator platform which reduces the barriers to entry and provides mentorship for food entrepreneurs bringing their products and services to market.  PREP provides test kitchens resources, food procurement and guidance to a talented and creative class of entrepreneurs. These are specialty food producers, baker, caterers and mobile food service operators, along with the next generation of food artisans. PREP is a privately held company based in Atlanta, GA.
https://www.prepatl.com/wp-content/uploads/2018/09/PREP-LOGO_WEB.png
0
0
doug marranci
https://www.prepatl.com/wp-content/uploads/2018/09/PREP-LOGO_WEB.png
doug marranci
2016-02-11 20:55:32
2019-01-29 17:11:46
Specialty Food Producer Spotlight Georgia Sourdough Crackers