We took a visit to East Atlanta Village Farmers Market looking for local gourmet Food Producers to begin production at PREP.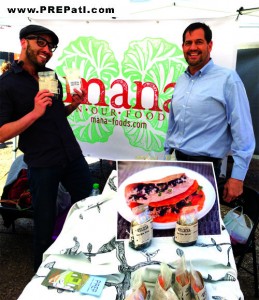 PREP is the place for Gourmet Food Producers to get started when they are ready to bring wonderful locally produced products to market. While visiting the East Atlanta Village Farmers Market, we found a wonderful example in Mana in our Foods Coconut Curry Mix.
This is wonderful mix that you simply add water and cook. We enjoyed this wonderful authentic curry for dinner, and as suggested, added some chicken to the mix when we cooked it. What an authentic flavor! The folks at Mana Foods took a wonderful idea and made it a reality. No doubt you will be seeing their products in stores near you!
People are looking for foods with recognizable ingredients, and local sourcing foods is very important. Cost is a consideration since local production means no shipping across the country. Knowing where your food is coming from is also very important today.
This can be your story too at PREP, if you have an idea, and your keep hearing that it is time to bring it to market, you can get started with minimal investment using the Shared Kitchens at PREP.
---
PREP is licensed by the USDA, Georgia Department of Agriculture and the GA Dept of Health.
PREP
3300 Marjan Drive
Atlanta GA 30340
I-85/I-285 ITP, 15 minutes from most areas of Atlanta.
404-920-4150
---
PREP Cook-Create-Connect provides Private Kitchens for Commissary, Catering and Food Production as well as a shared kitchen workspaces.  PREP is a culinary accelerator platform which reduces the barriers to entry and provides mentorship for food entrepreneurs bringing their products and services to market.  PREP provides test kitchens resources, food procurement and guidance to a talented and creative class of entrepreneurs. These are specialty food producers, baker, caterers and mobile food service operators, along with the next generation of food artisans. PREP is a privately held company based in Atlanta, GA.
https://www.prepatl.com/wp-content/uploads/2018/09/PREP-LOGO_WEB.png
0
0
doug marranci
https://www.prepatl.com/wp-content/uploads/2018/09/PREP-LOGO_WEB.png
doug marranci
2014-04-21 15:03:54
2019-01-29 17:21:22
Gourmet Food Producers - Coconut Curry