A visit with Emily and Abbie of Garnish & Gather
The best part of my work at PREP is when I get to interact with other business owners and entrepreneurs.  We have many wonderful specialty food producers at PREP, so I have been calling around trying to connect with local markets and businesses that market and or sell local specialty food products.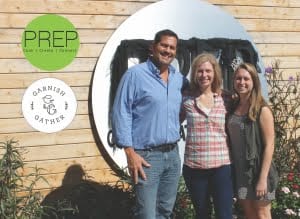 How nice when I received a return message from Emily Golub with Garnish & Gather.  The message was that she was excited about what we are doing and wanted to come and visit our place.  Today was the opportunity for that visit.  Emily came with Abbie Brans (Marketing & Communications (&Facebook!).
We actually recognized each other, and figured out that we had met about 4 years ago. Emily was just putting together the concept for G&G and JR and I were trying to figure out how to put together our community kitchen project.
Emily went on to build out her own facility and Garnish & Gather was born.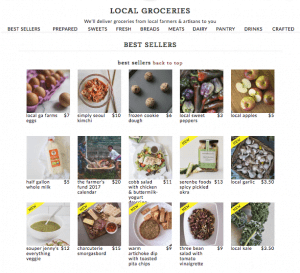 G&G has grown in many ways over the last few years. With the addition of the Local Grocery Market, a partnership with PREP was a natural. G&G is widely known for their wonderful Chef Inspired meal kits.  PREP Member Specialty Food producers need to be included in that lineup!
Everyone knows that when you run a business, you can easily get lost in the details.  I know without a doubt that PREP is a wonderful facility.  I can easily forget why I do what I do. A visit from creative foodie entrepreneurs like Emily and Abbie and their fascination with PREP brought back that warm feeling of why we chose the path of working with small startup food businesses.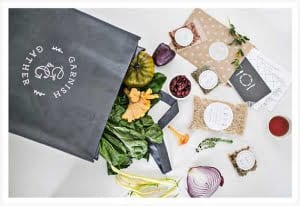 G&G works with a local chef to create a menu and recipes.  Their package has all of the local, natural ingredients to make a dinner for 2 or 4.  As we toured PREP,  we walked past one of PREP's Producers, Jason Jiminez, owner of Homespun Atl catering. Emily told me that Jason was a featured chef for a past G&G meal kit.
Jason is working on his new restaurant, Kitchen Six in North Decatur, and I am certain that there is an upcoming G&G meal kit featuring recipes from Jason and Kitchen Six!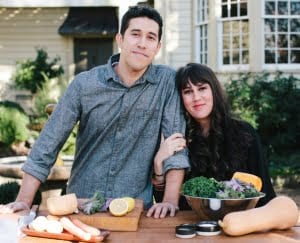 PREP is excited about our newly forged relationship, and the upcoming collaborations that are already in the works.  This includes featuring some of the Chefs that call PREP Home, as well as the upcoming launch of a meal kit featuring Food Truck Fare, with recipes from the best food trucks in Atlanta!
Be sure and take a look at the wonderful "Gatherings at Home" section.  Start with a meal kit, choose from fresh exciting add ons, and your party is ready to go!  You can tell everyone about G&G, or just pretend that you did it all by yourself.  The most wonderful part is that soon, you may find some specialty foods from our PREP producers in your bag! Visit G&G website
or call 678-701-8030
Garnish & Gather   –   Homespun Atl    –    Kitchen Six   –   PREP Members
PREP is licensed by the USDA, Georgia Department of Agriculture and the GA Dept of Health.
PREP
3300 Marjan Drive
Atlanta GA 30340
I-85/I-285 ITP, 15 minutes from most areas of Atlanta.
404-920-4150
---
PREP Cook-Create-Connect provides Private Kitchens for Commissary, Catering and Food Production as well as a shared kitchen workspaces.  PREP is a culinary accelerator platform which reduces the barriers to entry and provides mentorship for food entrepreneurs bringing their products and services to market.  PREP provides test kitchens resources, food procurement and guidance to a talented and creative class of entrepreneurs. These are specialty food producers, baker, caterers and mobile food service operators, along with the next generation of food artisans. PREP is a privately held company based in Atlanta, GA.
https://www.prepatl.com/wp-content/uploads/2016/10/doug.jpg.jpeg
2986
4096
Doug Marranci
https://www.prepatl.com/wp-content/uploads/2018/09/PREP-LOGO_WEB.png
Doug Marranci
2016-10-20 14:40:25
2019-01-29 17:08:41
Garnish & Gather @ PREP Atlanta!