PREP's Dedicated Kitchen Facility (PREP 2): Affordable. Permit-Ready. Exclusive.
PREP is expanding its offerings to include 35 dedicated production spaces for local entrepreneurs in 68,000 sf on 5.6 acres. Individual spaces will range from 100sf to 15,000 sf.
What's Included:
35 pre-approved, state of the art, food production kitchen spaces
Conveniently located inside the perimeter with immediate access to I-85 and I-285, one block from the MARTA Bus Line
Each production space is exclusive to one Member-Company. Your space is your own!
Permit ready per Georgia Department of Agriculture, USDA, FDA and DeKalb County Department of Health regulations
Customer Facing Entrances with gated loading area for potential retail sales
Walk-in coolers and freezers in most space configurations (if not reach-ins)
Dry storage areas
Shipping & Receiving zones (some units)
Covered Loading zones
Brand new individual HVAC systems, electrical and plumbing
Plumbing fixtures available – 3 compartment sinks, prep sinks, hand sinks, mop sinks
Separated, 3-phase power to each dedicated unit
6'-20' hoods depending on kitchen size
Gas cooking lines and monitored ansul fire supression systems
Tile and approved sealed floors
Warehouse areas with 13′ ceilings (most units)
6" double metal doors for receiving / shipping / loading
Separate customer entrance zones and parking
Access to lift gates and loading areas
Gated, 24-hour community
Unit customization may include office space, retail, showroom, conference rooms, rest rooms, packaging and shipping areas.
Utilities are separately billed at pass-through group buying power rates
PREP will assume the expense on the following:

    Grease trap pumping and maintenance
    Maintenance of roof, walls, structure, utilities runs to unit, parking areas, access control systems, common area lighting and landscaping
    Hood Cleaning and maintenance
    HVAC maintenance
    Walk-in and reach in Cooler and Freezer maintenance
    High speed Internet
    FOG permits
    Fire system and extinguisher inspections and permitting
    Facility pest control
 Sanitation & recycling

On-site parking for commercial vehicles including box trucks, food trucks and delivery trucks
Grey water dumping station
Fresh water fill station
Waste oil recycling
Co-working space
2 Common Conference Rooms
On-site access to additional a la carte cooler and freezer storage
Expedited permitting processes for: Retail &/or Wholesale License, Catering License and Vending License for Food Trucks
Group buying power through PREP's exclusive Procurement joint venture with Gordon Food Service
PREP's Manufacturing Quality Standards:
PREP maintains some of the strictest standards in safety and manufacturing practices for small-batch food processing. All PREP Members work in an environment that allows them to contribute to the quality, safety and transparency of Georgia's food production regulations. PREP is in compliance with all Georgia permitting authorities, which allows our member's to pursue permitting to produce the following products:
HACCP
Organic
FDA
USDA
Kosher
Wholesale
Retail
Catering
Farmer's Markets
Vending

PREP Atlanta – The explosion of micro food businesses in Atlanta has given rise to a multitude of shared kitchen spaces that provide production space, resources and guidance to area culinary entrepreneurs…
Such growth continues with PREP's announcement today of expansion plans. The Atlanta-based shared kitchen facility and culinary incubator has acquired 68,000 square feet of space at the office park adjacent to its current facility at 3300 Marjan Drive, near the intersection of Interstates 85 and 285.
Plans call for creating a campus-style enviroment for its culinary tenants.The first phase of the development is a $7 million project to convert one of two buildings at the Presidential Commons office park into 33,000 square feet of culinary production space called PREP2.
Construction is scheduled to begin in January 2017. The company hopes to make the space available to PREP members by mid-2017. No timeline has been set for converting the second of the two buildings into additional space for culinary use."After two and a half years of operation, we've been able to accelerate companies that they get to a point where they are now wanting their own facility," said Mitch Jaffe, PREP co-founder, CEO and CFO."PREP2 is the next level space for our successful companies where they can now have their own dedicated 24-hour space."PREP2 will house 19 mobile food service operators and will also have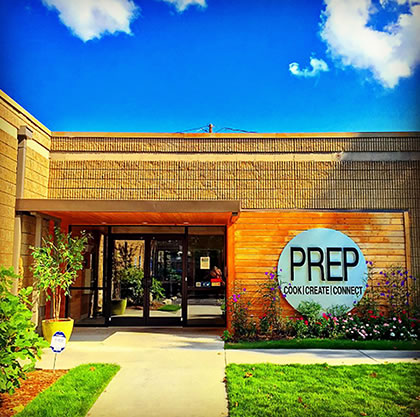 16 commercial production kitchens for small-to- medium-sized businesses in need of a manufacturing facility, catering or central commissary operations, Jaffe said.
The shared kitchen facility and food business accelerator currently houses 112 small food companies. Members include specialty food producers, catering companies and mobile food service operators.
Members are given 24-hour access to food production and storage space. They can also utilize a business center and conference area and save time and money by using PREP's in-house procurement program to purchase wholesale food and supplies.
The culinary industry job count at PREP is estimated to be about 350 jobs. PREP2 is expected to add between 250 and 400 jobs to Atlanta's culinary industry.
PREP was founded by Jaffe, his wife Michele Jaffe, Doug Marranci and JR Santos. It opened doors in June 2014 and is now the largest food truck commissary in the Southeast, having played a role in launching more than 40 food trucks.
PREP has also helped in the start-up of 110 locally produced food products and more than 30 catering and prepared meal companies in Atlanta.
Among the local food businesses who got their start at PREP are Bellina Alimentari and Nine Mile Station. Both companies worked out of PREP for training and menu development prior to opening in Ponce City Market. Other names from Atlanta's food scene who used PREP as a starting point include Refuge Coffee Company, Wanderlust Coffee, Queen of Cream, Emerald City Bagels, Verdant Kitchens, Real Meal Delivery, Sifted, Homespun ATL and Harvest Soul.
"The story of PREP Atlanta, to me, is the story of the companies we help," Jaffe said. "They came to PREP in their infancy and we helped accelerate them."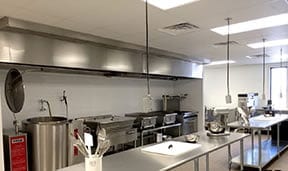 This article was written by Ligaya Figueras and is in the Atlanta Journal Constitution – Read original article Click Here
Read about PREP II Click Here
See PREP Atlanta Member testimonials Click Here
PREP Atlanta is a platform for Atlanta's creative food entrepreneurs to achieve their aspirations in this local food centric area. Consumers want to see lists of ingredients that they can pronounce.  Many producers started after making products in their homes for family members with specific dietary restrictions. Word spread about these wonderful products and a business was born.
If you are ready to launch your food business, or accelerate your business to the next level, PREP is the place for you.  Give Michele a call @ 404-920-4150 Today!
CLICK HERE TO SUBSCRIBE TO OUR EMAIL UPDATE LIST
PREP Cook-Create-Connect is a fully licensed unique shared kitchen concept. Established with one goal in mind
to help build and support small food businesses in Metro Atlanta.
PREP provides state-of-the-art commercial shared kitchen space, test kitchens resources, food procurement and guidance to a talented and creative class of entrepreneurs.
These are specialty food producers, baker, caterers and mobile food service operators, along with the next generation of food artisans. PREP is a privately held company based in Atlanta, GA.
For more information about PREP please call (404) 920-4150
or visit www.PREPatl.com    PREP on Facebook – PREP on Twitter – Truck & Tap – Atlanta Food Truck Catering