The Tech community will soon be able to satisfy its cravings for "meals on wheels" from Atlanta food trucks right here on campus.
By the end of March, a group of student-chosen food trucks will call Georgia Tech's campus home. Just which trucks those will be depends upon feedback gathered from a mini food truck festival, the Tech Truck Tournament, held on campus last week.
Tech Truck Tournament, held Tuesday, Feb. 26, invited popular Atlanta food trucks to campus for a one-day event. The 16 invitees set up shop around the perimeter of Tech Green. Students, faculty and staff from across campus flocked to the trucks, determined to eat their way through as many vendors as possible.
Esther Shin, a first year mechanical engineering student, heard about the event on Facebook and from flyers posted on campus.
"I was so sad when they postponed the original event," she said, referring to a delay caused by snow days the week before. "Having food trucks on campus gives me more of a city experience, and I'm excited to try these [pulled pork and Asian rib-eye tacos] from Yumbii." Yumbii is an Asian-Mexican food truck.
But on Tuesday, the choice between fish tacos and meatball sliders wasn't as straightforward as it might have seemed. Event feedback, including customer count by truck, will help determine which food trucks receive permits to operate on campus year-round. As Rich Steele, senior director of Campus Services explained, "We're asking people to initially vote with their purchases, and in the afternoon they'll be sent an email link to a website where they can complete a survey."
That survey, the link for which was sent to event attendees, who swiped their BuzzCards while waiting in line, allowed diners to rate the trucks they visited on both customer service and food quality.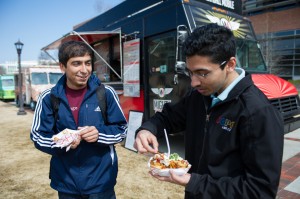 The Tournament, co-hosted by Campus Services, Dining Services, and the Student Center, was not the first step in bringing food trucks to campus, though it may have been the most publicly visible. Inspiration for the idea struck more than a year ago, and administrators have since come to view the integration of food trucks into Tech dining culture as an important development.
"With food trucks so prevalent in Atlanta, the city offers an incredible variety of foods, especially ethnic cuisines, and we just can't offer that range of food on campus by ourselves," Steele said.  "Increasing the variety of options students have will increase their dining satisfaction, and that's a major goal."
On-campus food truck service is set to begin the week of March 24, the week after spring break.  Before that happens, administrators will issue operating permits to between six and 10 of the most popular food trucks, all based on the results from the Tournament.
Trucks from this group will offer lunch service Monday through Friday from 11 a.m. to 3 p.m., with a rotational schedule determining who comes each day. Up to four trucks will operate on campus daily.
The food trucks will be centrally located on campus, specifically at two places: the College of Architecture plaza behind Clough Commons and the College of Computing plaza near the Howey Physics building.
Bogna Grabicka, a research scientist in the chemical and biomolecular engineering building, believes the food trucks will help promote an even greater sense of community on campus.
"A mix [of students and faculty] can come, students can stand in line with professors and chat," she said. "Talking about food doesn't require a degree."
Click Here for original article on GA Tech News
PREP is licensed by the USDA, Georgia Department of Agriculture and the GA Dept of Health.
PREP
3300 Marjan Drive
Atlanta GA 30340
I-85/I-285 ITP, 15 minutes from most areas of Atlanta.
404-920-4150
---
PREP Cook-Create-Connect provides Private Kitchens for Commissary, Catering and Food Production as well as a shared kitchen workspaces.  PREP is a culinary accelerator platform which reduces the barriers to entry and provides mentorship for food entrepreneurs bringing their products and services to market.  PREP provides test kitchens resources, food procurement and guidance to a talented and creative class of entrepreneurs. These are specialty food producers, baker, caterers and mobile food service operators, along with the next generation of food artisans. PREP is a privately held company based in Atlanta, GA.
https://www.prepatl.com/wp-content/uploads/2014/03/atlanta-food-trucks-georgia-tech-prep.jpg
349
740
Doug Marranci
https://www.prepatl.com/wp-content/uploads/2018/09/PREP-LOGO_WEB.png
Doug Marranci
2014-03-10 16:07:14
2019-01-29 17:23:50
Atlanta Food Trucks Get Right of Way on GA Tech Campus