PREP is quickly becoming the largest provider of state-of-the-art, permit ready dedicated kitchen facilities for restaurants and food businesses in the US.
PREP started its journey in 2014 in Atlanta, Georgia as a purpose-built, 15,000 square foot shared kitchen production hub with 36 food truck commissaries designed to provide food entrepreneurs with their own dedicated kitchens.
"When we opened our doors, our main mission was to help build and support small and growing food businesses in Atlanta," says Doug Marranci, co-founder of PREP.  "By providing companies with a cost-effective commercial kitchen facility, we were able to help local food entrepreneurs to organically scale their businesses."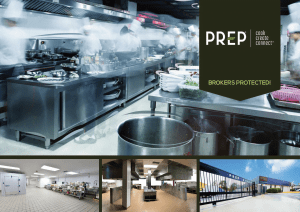 2019 is set to be a year of tremendous growth for the company. PREP is once again under construction– The addition of another 35,000sf of state- of-the-art commercial kitchen space to its campus in the Chamblee-Tucker area will bring the total activated space for foodservice companies up to 83,000 sf.
"Using a central commissary kitchen for delivery and offsite service is one of the fastest growing trends in the restaurant industry today," states JR Marranci, co-founder of PREP. "We're currently considering an additional 63,000 square foot expansion close to our Atlanta location.   We've acquired a 55,000 square foot facility in Austin, TX, to be delivered in late 2019, and will be opening in Nashville in 2020 along with two other markets. The growth we are seeing is exceptional and we anticipate seeing these trends continue to grow well into the future to keep up with the demand for local, healthy, convenient and clean foods."
As the largest facility of its kind in the US, PREP offers a wide variety of membership packages for all types of operators, from national operations to small local food producers. PREP provides solutions to suit any budget and accommodate individualized needs and provides a host of accelerator and mentorship services to grow its member-companies.
The differentiating factor in PREP's model is its view of clients as members rather than tenants, with each member playing an important role in the larger community of support and services.  Each private kitchen is full-service, with PREP handling maintenance and inspections for each unit.  Members simply pay their fees, metered utilities, and do what they love – create and cook.
"Setting up and operating a food business is incredibly expensive in today's market," says Mitchel Jaffe, PREP's 3rdco-founder and CEO.  "With our service, we help to reduce entrepreneur's barriers to entry by saving them average buildout costs of $300,000, plus all the risk associated with permitting, construction and developement.  This really provides operators with a win-win alternative to help them expand their operations quickly."
PREP's kitchens are ideal for all levels– from startups to nationwide corporate restaurants, including (but not limited to) virtual or ghost kitchens, restaurant central commissaries, bakeries, specialty food producers, consumer packaged goods, meal kit and prep companies, coffee roasters, movie-set caterers and more.
For more information about PREP and their shared kitchen services,
please visit the company's website at https://www.prepatl.com.
Contact Information
Doug Marranci
470-448-4053
https://www.prepatl.com/wp-content/uploads/2019/04/expansion.jpg
528
742
JR Marranci
https://www.prepatl.com/wp-content/uploads/2018/09/PREP-LOGO_WEB.png
JR Marranci
2019-04-07 16:06:47
2019-04-09 19:15:41
Atlanta-Based Culinary Accelerator PREP Announces All New State-of-the-Art Permit Ready Kitchen Facilities